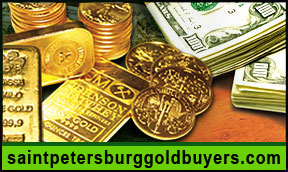 Gold is a chemical element with the symbol AU. Gold is a dense, soft, malleable metal. Pure gold has a bright yellow color, and pure gold is reflected by the terms 24kt or .999.
Gold also is used for many purposes, like jewelry and investment. Different uses call for different purities, such as most jewelry is 14 karats gold or.585 pure or most dental gold is 16 karat gold or .666 pure.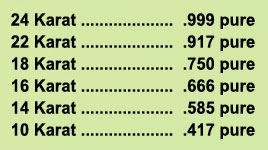 Pure gold 24 karat .999 pure is the only type of gold that most investors desire either in the form of coins or bullion. Most other forms of the metal have to be refined back to 24 karats to be reused.
Silver is a metallic chemical element with the symbol AG. Silver is a soft, white, lustrous transition metal, and it has the highest electrical conductivity of any element. This makes silver a very needed metal for industrial usage, as well as a sought after metal for jewelry and investment purposes. Pure silver is reflected as .999 ( the same as Gold ).

Other than the 90% pure old US. Coins, Pure Silver .999 is the only type of silver that investors desire either in Coin or Bullion form. Sterling and Coin Silver usually always gets melted and refined before it can be sold.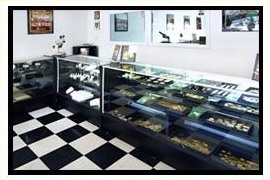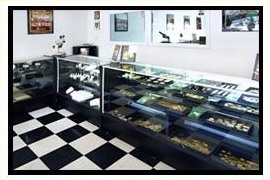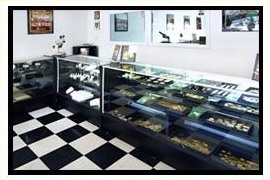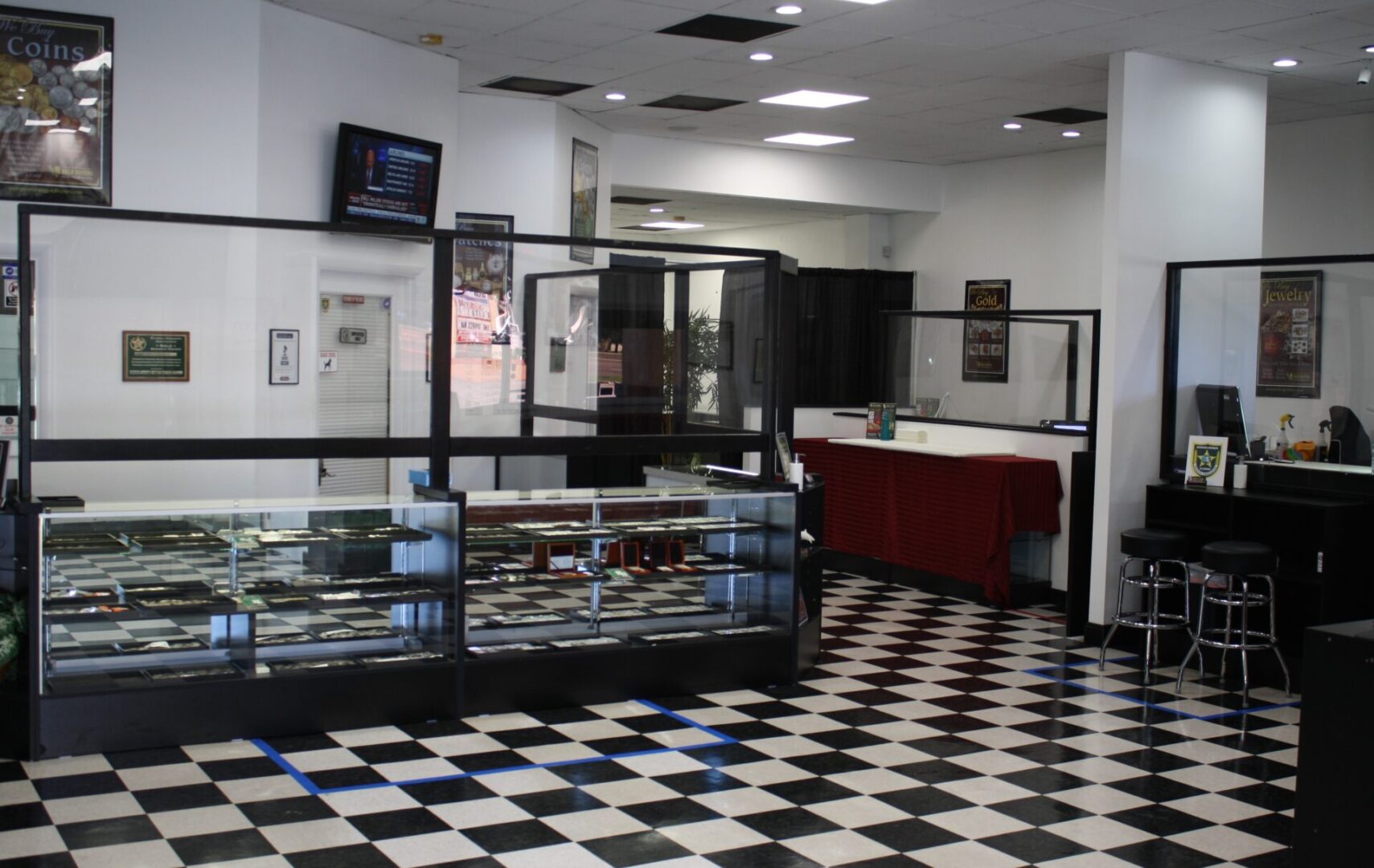 Q). How much is my Gold worth?
A). It depends on the purity of the metal and the current spot price of Gold. Bring your items to Saint Petersburg Jewelry and Coins™ for a free evaluation.
Q). I have Jewelry with Diamonds, do you buy that?
A). Yes, pieces with larger Diamonds are very valuable and our experts will be glad to give you a free verbal appraisal on those items. Pieces with small chips are usually worth more as Gold.
Q). What about color stones, do you buy them?
A). Yes, on occasions. It has to be a nice piece of resalable Jewelry or a Gem quality color stone for us to buy it.
Q). Is 18 karats worth more than 14 karats?
A). Absolutely, the purer the gold, the more it's worth. Come in and we will assay your gold for you to ensure you get the most you can, based on the purity of your Gold.
Q). Don't all businesses pay the same? Isn't that regulated by the Government?
A). Unfortunately, not every coin shop, jewelry store, pawnshop, "We Buy Gold" stores pay the same. There are hundreds of stores that advertise we buy this or that, but only a few that pay fair prices. It is critical to go to a place like Saint Petersburg Jewelry and Coins™that specializes in buying gold, silver, coins, and jewelry to get fair prices. Having the proper credentials like Saint Petersburg Jewelry and Coins™has is very important. When choosing a place to sell items, look for things like: Are they members of the Better Business Bureau or Business members of the Florida Sheriffs Association like Saint Petersburg Jewelry and Coins™.
Q). I have very old coins, are they worth more?
A). They may be; however, coins are not judged on how old they are but are judged on how many of that coin they made that year, the metal purity, and the condition. It is critical that you go to a coin shop that specializes in coins, like Saint Petersburg Jewelry and Coins™ to get a proper value for your old coins. To help determine if your coins are valuable, visit our Coin Guide.
Q). Do you buy Silver Plated items?
A). Unfortunately, NO we don't. There is no way to get the thin layer of Silver off the item. We do buy Sterling Silver items.
Q). How do I know if my items are Sterling?
A). Simple, if manufactured in the U.S., it has either ".925" or "sterling" clearly engraved in it. If manufactured overseas in the old days, it may have a backward figure of a lion on it facing left.
Q). Does Saint Petersburg Jewelry and Coins™ buy Watches and Diamonds?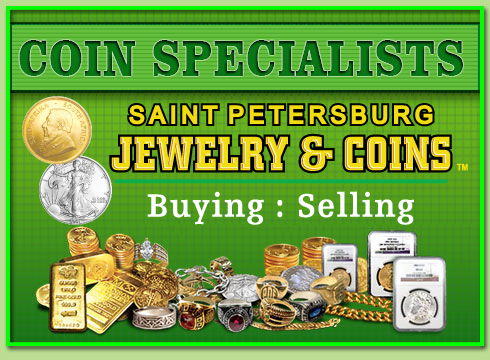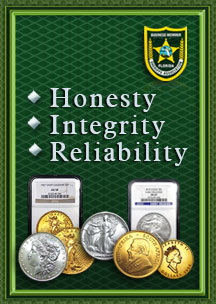 Please visit us at Saint Petersburg Jewelry and Coins™ and deal with a registered buying agent in person. Every one of our registered buying agents has over 30 years of experience in the industry, so you are guaranteed to have a knowledgeable and well trained professional help you.
Our Estate Buyers will be glad to answer any questions you may have and will take the time to explain the buying process to you while handling your transaction. Friendly, courteous service is assured when dealing with our professionals.
If you can't make it to our Store to meet a buyer in person, rest assured that the same expert buyers you normally would deal with at the Store are the same people who work at the Coin Shows and make house calls.
Avoid the rude, pushy untrained clerks at other stores. If they are not nice and friendly, just leave and visit Saint Petersburg Jewelry and Coins™ and have a seat in our private offices with a courteous, seasoned professional who will work with you to establish the value of your collection.
Please visit Saint Petersburg Jewelry and Coins™ Coin Guide to get an idea of your coins' values. Many Coins are literally worth their weight in gold or silver ( market ), but many coins are rare and worth more. If a store is not willing to share this information with you, why would you take your coins there? Saint Petersburg Jewelry and Coins™ has a great coin Guide to help you; If you have any questions, just give us a call or come by and talk with one of our experts.
When buying coins and bullion, think twice about buying paper gold/silver or stocks in gold and silver companies. It is much better to own physical gold or silver than a piece of paper. If the company that sold you a piece of paper fails, you lose your investment, but if you own the real deal ( physical gold and silver ), you can never lose. Saint Petersburg Jewelry and Coins™ sells gold and silver coins and bullion.